2012年10月16日
この銃はここで競売にかけられています。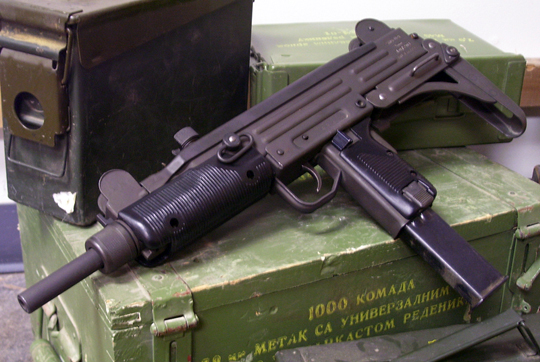 This is the Marushin UZI Automatic Electric Gun. It is the full metal frame version. This is already considered an old AEG in today's standard, in fact you can already called this a vintage toy.
これはマルシンUZI自動電動ガンです。それはフルメタルフレームバージョンです。これはすでに、今日の標準的で古いAEGとみなされ、実際には、すでにこのヴィンテージのおもちゃと呼ばれることができます。
The box is nicely presented and color coordinated in blue and yellow.
ボックスがうまく提示され、色は青と黄色でコーディネートされています。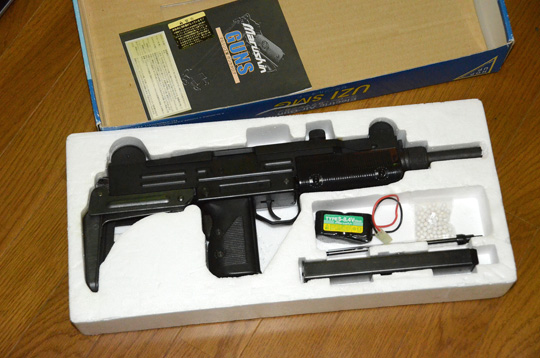 In the box, the gun sits primly on its molded styropor packing, complete with loader, battery, charger (which I already lost) and one standard magazine.
ボックスで、銃はローダー、バッテリー、充電器(私はすでに失われている)と一つのスタンダード誌との完全な、その成形パッキンに正しく座っている。
The left side view. There is a sling attachment at the base of the handguard.
左側面図。ハンドガードの根元にスリングアタッチメントがあります。
The right side view. You can notice here the scratches on the metal folding stock, which happens every time you extend the stock.
右側面図。あなたが株式を拡張するたびに発生金属フォールディングストック、ここで傷に気づくことができる。
View the stock fully extended.
完全に伸びた在庫を表示します。
View the stock fully extended and the magazine inserted.
株式完全に拡張され、マガジンが挿入を表示します。
Removing the top of the frame you see immediately the old school gearbox, or the lack of it. There is no gearbox in the gun, the gears, piston, cylinder, etc are all built into the frame of the gun,, which makes this one a classic.
あなたはすぐに古い学校のギアボックス、またはその欠如を参照フレームの上部を取り外します。銃にはギアボックスはありません、ギア、ピストン、シリンダーなどは、すべてこの1古典になり銃の枠に組み込まれています。
Here is the battery that comes with the package. It is a NiCad 8.4V battery with 500mah capacity.
ここではパッケージに同梱されているバッテリーです。それは500MAH容量のニッカド8.4Vバッテリーです。
Here is how the battery goes into the frame of the gun. I was amazed at the good ROF of the gun even with the battery that comes with it. Watch my video.
ここにバッテリーが銃のフレームに入るかということです。私もそれに付属のバッテリで銃の良いROFに驚きました。私のビデオを見る。
The selector switch is shown here, D – full auto, E – semi auto, and S – for safety (which is the German version. Israel version is ARS)
セレクタースイッチがここに示されているが、D - フルオート、E - 半自動、および S - 安全のためには、(。どれがドイツ語版であるイスラエルのバージョンは、ARSです)
Showing the laser engraved markings, which is very beautifully done.
非常に美しく行われるレーザー刻印マーキングを表示しています。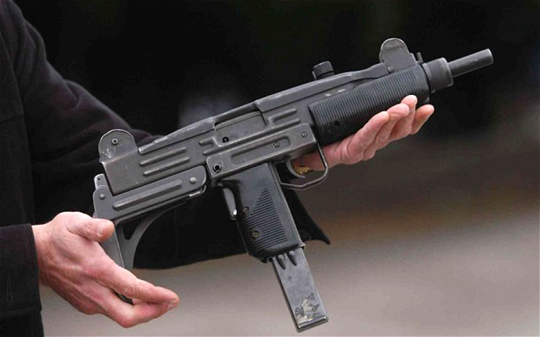 Just one more photo, this is the real UZI submachinegun.
ちょうどもう一つの写真は、これが本物のUZIサブマシンガンです。
この銃はここで競売にかけられています。
---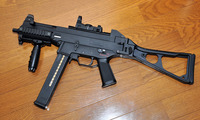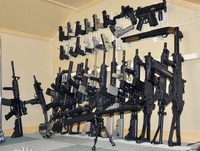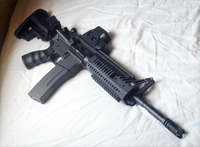 ---
---
---