2012年10月21日
A sneak peak at the rifle portion of Operation Z Volume 2: Shotguns, Rifles, & Carbines.
This segment introduces first time shooters to rifles and the associated mindset.
Includes Barrett MRAD .338, LaRue OBR 7.62mm, Ruger 10/22 Suppressed
The release date of Operation Z Volume 2: Introduction to Rifles, Carbines, and Shotguns will be announced soon.
---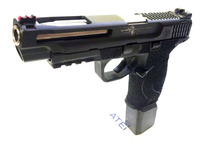 ---
---
---